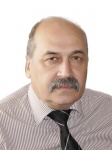 Plavnik A.G.
Graduated from the Ural State University (1977).
PhD in Technical Sciences.
Head of the Laboratory of the West Siberian Branch of the Federal State Budgetary Scientific Institution Trofimuk Institute of Petroleum Geology and Geophysics of Siberian Branch of Russian Academy of Sciences, Tyumen.
Area of scientific interests: development of methods and software for mapping the properties of geological objects based on the spline approximation approach; issues of hydrogeological criteria for oil and gas content and analysis of hydrodynamic, hydrogeochemical and geothermal data from field studies in order to clarify the geological structure and optimize the development of hydrocarbon fields in Western Siberia.
Author of over 120 publications.