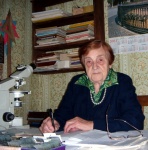 Gmid L.P.
Graduated from Leningrad Pedagogical Institute (1939), and postgraduate studies of the Institute of Fossil Fuels of the USSR (1947).
PhD in geology and mineralogy (1947).
Senior researcher of VNIGRI (1952). Have been working with VNIGRI since 1947.
Area of scientific interest:
- conditions of the Phanerozoic carbonate reservoir rocks formation of oil and gas basins of Russia.
- factors and processes contributing to the pore structure formation (pores, cavities, cracks) at different stages of lithogenesis and determining capacitive and filtration properties of carbonate rocks.
- role of fracturing in hydrocarbon filtration in carbonate reservoir rocks.
- development of carbonate reservoir rocks classification.
- development of complex reservoir model.
- study of deformation processes of carbonate deposits of the Lower Carboniferous and Upper Devonian clastic deposits of Tatarstan and their influence on the oil fields development.
Author and coauthor of numerous publications, including manuals and monographs.