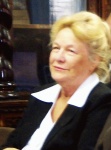 Oknova N.S.
Graduated from Geology Department of Leningrad State University in 1957.
PhD in geology and mineralogy.
Senior researcher of VNIGRI.
Key fields of scientific research: development of lithologic-paleogeographic and geodynamic forecast and search methods for oil and gas deposits in non-anticline traps; and testing of the methods developed in the Timan-Pechora province and the eastern Russian platform.
Author and coauthor of more than 150 publications, including monographs.