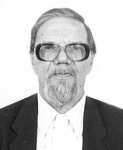 Sobolev V.S.
Graduated from Leningrad Mining Institute.
Have been working with VNIGRI since 1954.
PhD in geology and mineralogy (1963).
Key fields of scientific research: study and prospective evaluation of hydrocarbon systems of continental-margin oil and gas basins. Developed classification of oil and gas parent suites, scientific and methodological framework for assessment of phase state of hydrocarbon accumulations in subsoil of offshore areas. The results of these developments are used to substantiate exploration work in offshore areas of Russia.
Author and coauthor of more than 70 publications, including 6 monographs.