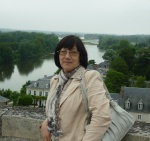 Burova I.A.
All-Russia Petroleum Research and Exploration Institute (VNIGRI),
Saint Petersburg, Russia,
ins@vnigri.ru
Graduated from Leningrad Mining Institute, specialization "geological mapping, prospecting and exploration of mineral deposits" (1977).
Works with VNIGRI from 1972 to 2002 and from 2008.
PhD in Geological and Mineralogical Sciences (2001).
Main fields of research: lithology study of carbonate reservoir rocks of Siberian platform, study of oil and gas potential of Siberian platform, development of methods of hydrocarbon deposits search in carbonate rocks of Siberian platform.
Has about 30 scientific works, including monograph.