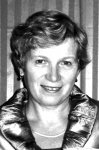 Ryabinkina N.N.

ryabinkina@geo.komisc.ru
Graduated from Moscow State University in 1977, specialization «Geology of oil and gas».
PhD in Geological and Mineralogical sciences.
Senior Researcher of IG Komi SC UB RAS.
Area of scientific interest: lithology, gas geology, lithology of clastic reservoirs, organic geochemistry.
Author of 157 publications, including 18 articles, 12 monographs and brochures.