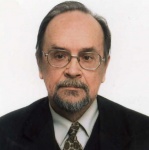 Podol'skiy Yu.V.
/1936-2017/
Graduated from Leningrad Mining Institute, specialization «geological survey» (1959).
PhD in geology and mineralogy (1996).
Key fields of scientific research: development of mathematical models of geological and economic evaluation of hydrocarbon resources and reserves, planning of hydrocarbon exploration and mining in a market economy.
Author of 170 publications, including 5 monographs.