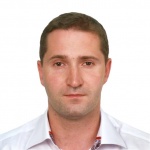 Polyakov A.A.
Andrey.Polyakov@ipc-oil.ru
Graduated from Lomonosov Moscow State University (2002), specialization «geology and geochemistry of fossil fuels».
Head of the Management of Regional Geology, Department of exploration and licensing, OJSC NK Rosneft", Moscow, Russia and LLC "Sibneftegazinnovatsiya XXI century", Tomsk, Russia.
Area of scientific interests: peculiarities and regularities of formation and distribution of oil and gas fields.
Author of 12 publications. Patent: A method of geophysical exploration to determine oil-gas producing types of geological section with variable thickness.