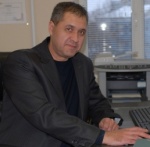 Yartiev A.F.
yartiev@tatnipi.ru
Graduated with honors rom Gubkin Moscow Institute of Oil and Gas, specialization 'economics and organization of oil and gas industry' (1991).
PhD in economics.
Head of the department of economy development and production of the Tatar Oil Research and Designed Institute (TatNIPIneft) of the Tatneft Joint Stock Company.
Area of scientific interest: exploration economics and development of oil fields, effectiveness analysis of enhanced oil recovery methods.
Author of 130 publications, 9 monographs, 12 industry leading documents and author's certificate N 2172396.