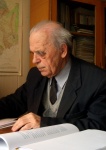 Khramov A.N.
/1927-2014/
Graduated from Leningrad State University, specialization «geophysics»
Have been working with VNIGRI since 1951.
PhD in geology and mineralogy (1968).
Professor (1979).
Head of the department of stratigraphy of oil and gas provinces. The laboratory is one of the three centers in the world (Russia, USA, Australia), which organizes and constantly updates the computer bank of the world paleomagnetic data.
Author and coauthor of more than 200 publications, including 6 monographs.