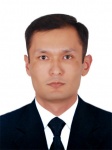 Khozhiev B.I.
Graduated from Tashkent State Technical University (2012), specialization "geological engineering".
PhD in Geological and Mineralogical Sciences.
Deputy Head of the Oil and Gas Department of the State Committee of the Republic of Uzbekistan for Geology and Mineral Resources.
Area of scientific interests: studying the geological structure of Jurassic terrigenous strata of Western Uzbekistan and determining their petroleum potential, studying the processes of formation, preservation and destruction of petroleum fields, the history of paleotectonic development, designing geological exploration for oil and gas.
Author of 20 publications.