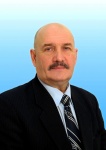 Bogdanov B.P.
bogdanboris@mail.ru
Graduated from Ukhta Industrial Institute, specialization «geology and exploration of oil and gas fields» (1973), mining engineer and geologist.
Associate Professor of Ukhta State Technical University.
PhD in Geological and Mineralogical Sciences. Deputy Head of Representation of VNIGRI.
Area of scientific interest: exploration of deposits of oil and gas.
Author of more than 70 publications.