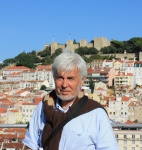 Morariu D.
morariu45@gmail.com
MSc in Geology, 1967, University of Bucharest.
Exploration geologist - focus of interest: Carpathians - flysch and molasse sedimentology (Geological and Geophysical Exploration company), Bucharest 1967-1970.
Senior researcher geologist - focus of interest: south and western Carpathians – wrench tectonics, pelitic rocks and carbonate diagenesis, thermal maturation of organic matter (Geological Survey of Romania), Bucharest 1971-1980.
Ph.D in Geology doctoral study and dissertation preparing period, Basel University 1980-1985.
Ph.D in Geology, Tectonics and Petrology (Helvetic Nappes - tectonic evolution and petrology), Basel University 1985.
Petrophysics studies concerning northern Switzerland subsurface geology, Bern University, 1985-1988.
Senior petroleum geologist in charge of hydrocarbon field evaluation and potential analyses for several CIS countries (Russia – partly, Ukraine, Georgia and Azerbaijan), IHS company, 1988-2012.
Independent Petroleum Geologist of the Journal "Neftegazovaya Geologiya. Teoriya I Praktika" (since 2012).
Fields of interest: Structural Geology, Tectonics and Regional Geology, Basin Analysis.
Author of more than 40 scientific publications concerning several tectonic units belonging to Carpathians, Alps and Caucasus folded belts.