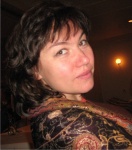 Jagt-Yazykova E.A.
eyazykova@uni.opole.pl
Graduated from Leningrad State University, specialization «geological survey and mineral recourses search».
PhD in geology and mineralogy.
Assistant Professor of biosystematics Department of Opole University (Poland).
Area of scientific interest: stratigraphy, paleogeography, paleontology, geo-zoology.
Author and coauthor of more than 100 publications, including 5 monographs.
Member of the Editorial Board of the journal «Europe.ru» (Warsaw, Poland).