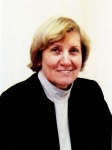 Lobova G.
lobovaga@tpu.ru
Graduated from Tomsk Polytechnic Institute (1974), specialization "prospecting and exploration of oil and gas fields".
PhD in Geological and Mineralogical Sciences.
Independent expert in the field of oil and gas geology and geophysics, Visaginas, Lithuania.
Area of scientific interests: petrogeological interpretation of geological and geophysical data.
Author of over 200 publications.