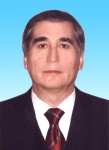 Abdullaev G.S.
igirnigm@ing.uz
Graduated from Tashkent State University, geological faculty (1972).
PhD in Geology and Mineralogy, professor.
Director of the IGIRNIGM, Uzbekistan, Tashkent.
Area of scientific interests: geological structure of Western Uzbekistan Paleozoic and Jurassic terrigenous and carbonate formations, and estimation of their petroleum potential.
The litho-stratigraphic, paleontologic features and development of biostratigraphic schemes related to deep-dwelling areas are also strong points of interest.
Proposing the future petroleum exploration and development activity in the studied areas.