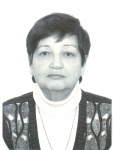 Polyakova I.D.
borukaeva@yandex.ru
Graduated from Rostov-on-Don State University, qualification "engineer-geologist-prospector" (1953). PhD in Geological and Mineralogical Sciences.
Senior Researcher of Geological Institute of Russian Academy of Science.
Research interests: oil and gas basins of the world, geodynamic and paleogeographic aspects of their formation, geochemistry of organic matter and oils. At present, the main object of study are oil and gas basins of the Arctic.
Author of more than 200 publications, including 10 monographs and several maps.