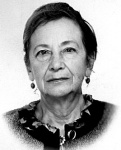 Belonovskaya L.G.
Graduated from Moscow Oil Institute of I.M. Gubkin, specialization «geology and exploration of oil and gas fields» (1963).
Works with VNIGRI since 1956.
PhD in geology and mineralogy (1978).
Senior researcher (1983).
Key fields of scientific research: rocks fracturing study, distinguishing and evaluation of reservoir of complex type using geophysical techniques, study and search for fractured carbonate oil and gas reservoirs.
Author and coauthor of numerous publications, including monographs.