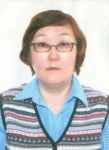 Sleptsova M.I.
msleptsova@mail.ru
Graduated from Ivanovo Chemical and Technological Institute (1983), specialization "chemical engineering" and All-Russia Academy of Foreign Trade (1995), specialization "economics".
PhD in Technical Sciences.
Senior Researcher of Institute of Oil and Gas Problems of the Siberian Branch of the Russian Academy of Sciences – a separate subdivision of the Yakut Scientific Center SB RAS (IPNG SB RAS).
Area of scientific interests: petroleum geology, economy of petroleum branch.
Author of 34 publications, 1 patent.