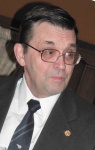 Verba M.L.
/1935-2019/
Graduated from Leningrad Mining Institute, specialization «geology and prospecting of oil and gas fields» (1958).
PhD in geology and mineralogy.
Head of department of the Research Institute of Arctic Geology (1983-1994). Chief Geologist (1994-2000) and Chief Researcher of «Sevmorgeo».
Area of scientific interest: geology and petroleum potential of Arctic shelf, oil and gas fields' tectonics; general questions of the evolution of the Earth, the latest tectonic movements, use of quantitative methods in studying the history of sedimentary and katagenetic processes.
Author of 250 publications, including 13 monographs.