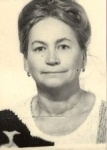 Chistyakova N.F.
n.f.chistyakova@utmn.ru
Graduated from Kiev State University named after T.G. Shevchenko (1971), specialization "organic chemist".
PhD in Geological and Mineralogical Sciences, Professor.
Professor of the Department of Geoecology and Environmental Management, Institute of Earth Sciences, Tyumen State University.
Area of scientific interests: oil and gas source rocks and the realization of their hydrocarbon potential at various stages of catagenesis.
Author of more than 133 publications.