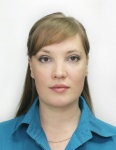 Kotik O.S.
procko@geo.komisc.ru
Graduated from Syktyvkar State University (2006), specialization "geologist".
PhD in geology and mineralogy.
Researcher of Institute of Geology of the Komi Science Center of the Ural Branch of the Russian Academy of Sciences.
Area of scientific interests: petrography, geology of oil and gas, geochemistry of organic matter.
Author of more than 50 publications.