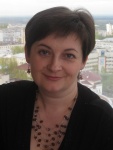 Valyaeva O.V.
valyaeva@geo.komisc.ru
Graduated from Syktyvkar State University (1994), specialization "chemistry".
PhD in Geological and Mineralogical Sciences.
Senior Researcher Institute of Geology named after Academician N.P. Yushkin Komi Scientific Center of the Ural Branch of the Russian Academy of Sciences (IG FRC Komi SC UB RAS).
Area of scientific interests: geochemistry of organic matter of rocks, oils, solid combustible minerals.
Author of 79 publications.