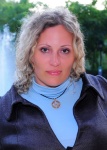 Razmanova S.V.
s.razmanova@sng.vniigaz.gazprom.ru
Graduated with honors from Ukhta Industrial Institute, specialization 'economics and management in fuel-energy sector' (1994). Post-graduated from Ukhta State Technical University (2001).
PhD in Economic Sciences (2010).
Head of the laboratory of development projects efficiency of the Ukhta Branch of 'Gazprom VNIIGAZ LLC'.
Membership in international scientific societies: ordinarny member of the Royal Economic Society (Great Britain), New Economic Association (Russian Federation).
In 2016 she graduated from St. Petersburg State University doctorate in specialty 08.00.05.
Area of scientific interest: evaluation of investment projects effectiveness, taxation in fuel-energy sector, research in the field of industrial markets and corporate control (oil industry).
Author of more than 110 publications.