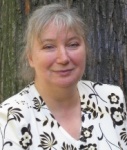 Shibina T.D.
Graduated from Leningrad State University, specialization «geochemistry» (1974).
Worked with VNIGRI as Senior petrography specialist in the laboratory of petrographic (1977), Researcher (1985) in the department of lithological and tectonic methods for oil and gas potential forecast, is currently Head of the laboratory of petrographic study of rocks and reservoir studies.
Area of scientific interest: lithologic-petrographic, petrophysical study of the basal sediments of the Riphean-Vendian complex of sedimentary cover of ancient platforms of central part of the Russian and East-Siberian platforms, Mezenskaya syncline; the Vendian and Devonian deposits of the southern Orenburg region, the Devonian, Carboniferous and Permian sediments of the Caspian basin; sediments of the Jurassic and Cretaceous complex of south of the Tyumen region of Western Siberia.
Author and coauthor of 20 publications.