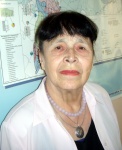 Bazhenova T.K.
ins@vnigri.ru
Graduated from Moscow State University, specialization «geology exploration and oil and gas fields» (1957).
PhD in geology and mineralogy(1992).
Works with VNIGRI since 1973 as senior researcher, leading researcher, Chief Scientist.
Key fields of scientific research: organic geochemistry of the Paleozoic and Pre-Paleozoic Siberian platform and some basins of the East European platform, separate forecast of oil and gas generation and hydrocarbon migration, ontological aspects of petroleum geology.
Author and coauthor of more than 200 publications and 10 monographs.