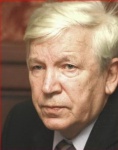 Nazarov V.I.
Graduated from Leningrad Mining Institute, specialization «economics and organizing in mining industry».
PhD in economics (1992), Professor (1997).
Geologorazvedka JSC.
Area of scientific interests: economic evaluation of reserves and resources of oil and gas; forecast of oil and gas reserves and resources development; methods of geological and economic feasibility of exploration.
Author of more than 200 publications, including monographs.