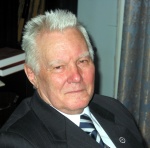 Shimansky V.K.
Graduated from Chemistry Department of Leningrad State University (1955).
PhD in geology and mineralogy (1968).
Head of the department of geochemical bases of petroleum potential forecast and oil ecology research.
Area of scientific interest: geochemistry of oil and organic matter of rocks, geochemistry of individual hydrocarbons, kinetic and thermodynamic models of oil formation processes, genetic classification of oils, banks of geochemical data.
Author and coauthor of 200 publications, including 6 monographs.