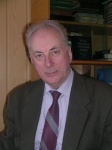 Grigorenko Yu.N.
/1936-2017/
Graduated from Leningrad Mining Institute, specialization «prospecting and exploration of oil and gas fields» in 1959.
Worked with VNIGRI from geologist to the Deputy Director.
PhD in geology and mineralogy (1997).
Honored Geologist of the Russian Federation.
Chairman of the Dissertation Council of VNIGRI.
Area of scientific interests: study of geology and petroleum potential of eastern Russia, offshore areas and oceans.
Author of more than 200 publications, including 6 monographs.