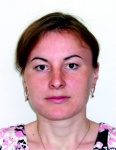 Ivanova I.A.
Ivanova_Inna@sniiggims.ru
Graduated from Novosibirsk State University (2010), specialization "regional geology".
Engineer of SNIIGGiMS.
Area of scientific interest: organic geochemistry.
Author of 1 publications.
Geochemical research
Section editor – PhD in geology and mineralogy Bazhenova T.K.
Article # 27_2015
submitted on 07/03/2015 displayed on website on 07/15/2015
15 p.
Ivanova I.A.
pdf
Geochemistry of organic matter from deposits of Bereza depression (Siberian Platform)
The results of the study of geochemistry of the Neoproterozoic and Lower Cambrian sediments of Bereza depression are provided. The clay layer of Seralahskaya suite is characterized by high carbon content. Numerous manifestations of naphthides associated with deposits of Seralahskaya suite (Lower Vendian) are identified.

Keywords: geochemistry of naphthides, Neoproterozoic period, oil source rocks, Pre-Patom oil and gas region, Bereza depression.
article citation
Ivanova I.A. Geokhimiya organicheskogo veshchestva otlozheniy Berezovskoy vpadiny (Sibirskaya platforma) [Geochemistry of organic matter from deposits of Bereza depression (Siberian Platform)]. Neftegazovaya Geologiya. Teoriya I Praktika, 2015, vol. 10, no. 3, available at: http://www.ngtp.ru/rub/1/27_2015.pdf
DOI
https://doi.org/10.17353/2070-5379/27_2015
References
Bazhenova T.K., Dakhnova M.V., Mozhegova S.V. Verkhniy proterozoy Sibirskoy platformy - osnovnoy istochnik neftegazonosnosti ee domezozoyskogo megabasseyna [Upper Proterozoic of Siberian platform - the main source of oil and gas potential of its pre-Mesozoic megabasin]. Neftegazovaya geologiya. Teoriya i praktika, 2011, vol. 6, no. 2, available at:
http://www.ngtp.ru/rub/1/17_2011.pdf
Bobrov A.K. Geologiya Predbaykal'skogo kraevogo progiba [The geology of Pre-Baikal marginal trough]. Stroenie i perspektivy neftegazonosnosti. Moscow: Nauka, 1964, 227p.
Bobrov A.K., Vozdvizhenskiy I.A., Moskvitin I.E., Ushakov A.I. Geologicheskoe stroenie i neftegazonosnost' severo-vostochnoy chasti Predbaykal'skogo kraevogo progiba [Geology and petroleum potential of the North-eastern part of Pre-Baikal marginal trough]. Moscow: Nedra, 1974, p. 332.
Bogorodskaya L.I., Kontorovich A.E., Larichev A.I. Kerogen: Metody izucheniya, geokhimicheskaya interpretatsiya [Kerogen: Methods of study, geochemical interpretation]. Novosibirsk: Izd-vo SO RAN, filial 'Geo', 2005, 254 p.
Dakhnova M.V., Zheglova T.P., Mozhegova S.V. Generatsionnye kharakteristiki OV i raspredelenie biomarkerov v bitumoidakh neftematerinskikh porod rifeya, venda i kembriya Sibirskoy platformy [Generational characteristics of organic matter and distribution of biomarkers in bitumens of source rock of the Riphean, Vendian and Cambrian of the Siberian Platform]. Geologiya i geofizika, 2014, vol. 55, no. 5-6, p 953-962.
Dakhnova M.V., Zheglova T.P., Mozhegova S.V., Myalkina Yu.A., Nazarova E.S., Nechitaylo G.E. Rol' rifeyskikh i vendskikh neftematerinskikh tolshch kak postavshchikov uglevodorodov v zony neftenakopleniya na yuge Sibirskoy platformy [The role of the Riphean and Vendian oil source strata as the suppliers of hydrocarbons to the areas of oil accumulation in the south of the Siberian platform]. Uspekhi organicheskoy geokhimii: proceedings of All-Russia scientific conference in Trofimuk INGG (Novosibirsk, 11-15 October 2010). Novosibirsk: INGG, 2010, p. 129-132.
Gornshteyn D.K. Tektonicheskoe stroenie i perspektivy neftegazonosnosti Aldanskoy anteklizy [Tectonic structure and petroleum potential of the Aldan anteclise]. Moscow: Nauka, 1965, 120 p.
Grausman V.V., Zhernovskiy V.P., Meyen S.V. Izuchenie razrezov glubokikh skvazhin, raschlenenie i korrelyatsiya ikh s tsel'yu obespecheniya stratigraficheskoy osnovoy neftegazopoiskovykh rabot v YaASSR [Studying of deep wells references, division and correlation of them with a view to ensuring the stratigraphic basic of oil and gas exploration in YASSR]. Funds of PGO 'Lenaneftegazgeologiya'. Yakutsk: LNGG, 1986, 239 p.
Kontorovich A.E. Geokhimicheskie metody kolichestvennogo prognoza neftegazonosnosti [Geochemical methods of quantitative forecasting of oil and gas potential]. Moscow: Nedra, 1976, 249 p.
Migurskiy A.V., Starosel'tsev V.S. Shar'yazhnoe stroenie zony sochleneniya Sibirskoy platformy s Baykalo-Patomskim nagor'em [Structure of the zone of junction of the Siberian platform with the Baikal-Patom Highland]. Sovetskaya geologiya, 1989, vol 7, p. 9-15.
Moskvitin I.E. Geologicheskie predposylki perspektiv neftegazonosnosti verkhneproterozoyskikh otlozheniy Berezovskogo progiba [The geological pre-conditions of petroleum potential of Upper Proterozoic deposits of Bereza trough]. Novosibirsk, 1984, 209 p.
Moskvitin I.E., Sitnikov V.S., Tokin V.V. O perspektivakh neftegazonosnosti Berezovskogo progiba [On the prospects of oil and gas potential of Bereza trough]. Neftegazonosnye otlozheniya Zapadnoy Yakutii: sb. nauch. tr. - Yakutsk: YaF SO AN SSSR, 1982, p. 40-54.
Petrov M.M., Aleksandrov A.R., Sivtsev A.I. Nadvigovye dislokatsii v Berezovskoy vpadine [Overthrust dislocation in Bereza depression]. Neftegazovoe delo, 2012, no. 4, p. 502-514.
Sobolev P.N., Kozhevykh I.A. Novye dannye po geokhimii naftidov i organicheskogo veshchestva neoproterozoyskikh otlozheniy zony sochleneniya Predpatomskogo progiba i Nepsko-Botuobinskoy anteklizy (Sibirskaya platforma) [New data on the geochemistry of organic matter and naphthides of the Neoproterozoic sediments of junction zone of Pre-Patom deflection and Nepa Botuoba anteclise (Siberian platform)]. Geologiya i mineral'no-syr'evye resursy Sibiri, 2013, vol. 2, p. 77-85.
Stratigrafiya neftegazonosnykh basseynov Sibiri. Rifey i vend Sibirskoy platformy i ee skladchatogo obramleniya [Stratigraphy of Siberian oil and gas basins. Riphean and Vendian of the Siberian Platform and its folded frame]. N.V. Mel'nikov, M.S. Yakshin, B.B. Shishkin. Novosibirsk: 'Geo', 2005, 428 p.