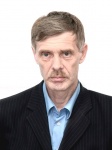 Moiseev S.A.
MoiseevSA@ipgg.sbras.ru
He graduated from the Tomsk Polytechnic Institute (1980), specialization "mining engineer-hydrogeologist".
PhD in geology and mineralogy.
Head of the Laboratory of oil and gas geology of the Siberian Platform, Trofimuk Institute of Petroleum Geology and Geophysics SB RAS.
Area of scientific interests: geological structure and prospects of oil and gas content of the Vendian-Cambrian deposits of the Leno-Tunguska petroleum province.
Author of 135 publications.