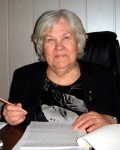 Yakutseni V.P.
/1928-2016/
PhD in geology and mineralogy (1969) Professor (1977).
Head of department of VNIGRI.
Author of more than 200 publications, including 20 monographs.
Formulated a new trend of research in geology - geology and helium isotopes - a quantitative indicator of time and intensity of planetary processes and neo-tectogenesis.
Studied the planetary patterns of accumulation and distribution of helium in the crust.
Identified objective indicators of intensity of mantle and thermal processes in the lithosphere and current crust permeability by isotope-helium data. The results of these studies have been registered as three inventions.