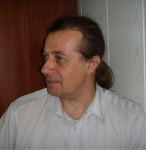 Sukhanov A.A.
/1955-2015/
Graduated from Lenigrad State University, specialization «radio physics».
PhD in geology and mineralogy.
Head of the laboratory of reserves estimation and development technology of unconventional sources of hydrocarbon and associated components, All-Russia Petroleum Research Exploration Institute.
Area of scientific interest: geochemistry, physical chemistry, spectroscopy.
Author and coauthor of more than 50 publications and 5 inventions.