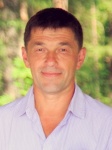 Sobolev D.B.
dbsobolev@rambler.ru
Graduated from Moscow State University (1986), specialization «geological survey, prospecting and exploration of mineral deposits».
PhD in geology and mineralogy, Associate Professor.
Senior Researcher of Federal State Budgetary Institute of Science; acad. N.P. Yushkin Komi Research Center of the Ural Branch of the Russian Academy of Sciences (FGBUN IG Komi Scientific Center UB RAS).
Area of scientific interests: paleontology (ostracods of the Lower Carboniferous), stratigraphy, facies analysis.
Author of more than 40 publications.