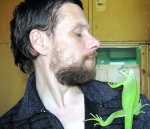 Zhuravlev A.V.
micropalaeontology@gmail.com
Graduated from the Department of Paleontology, Geological Faculty of Leningrad State University (1987), specialization «geological mapping, prospecting and exploration of mineral deposits».
PhD in Geology and Mineralogy.
From 1987 to 1992 worked with the Institute of Geology of Komi Scientific Center.
From 1992 to 1995 worked as a Senior Researcher with «NPO Conversiya».
From 1995 to 2004 - Senior Researcher of the stratigraphy and paleontology Department of VSEGEI.
From 2007 to 2014 - Head of Laboratory of micropaleontology, VNIGRI.
Senior Researcher, Institute of Geology, Komi Science Center, Ural Branch of the Russian Academy of Sciences.
Author and coauthor of more than 150 publications (including 2 monographs) on paleontology, stratigraphy, lithology, paleogeography, tectonics, and remote computer methods in geology. Co-authored over 20 scientific reports.
The main areas of research interests: micropalaeontology, biomineralization, computer microtomography, sedimentology, stratigraphy.