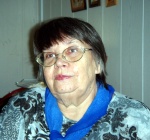 Rogozina E.A.
/1934-2017/
Graduated from Chemistry Department of the Leningrad State University (1957).
PhD in geology and mineralogy.
Area of scientific interests: solving problem of oil and gas genesis, petroleum potential forecast; development of theoretical models of transformation of various types of organic matter and evaluation of the scope of oil and gas generation in lithogenesis of sedimentary rocks; oil-ecology.
Author of about 200 publications, including 5 monographs.
Developed biological products «NAFTOKS» for oil-contaminated soil.