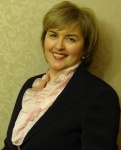 Averyanova O.Yu.
info@ngtp.ru
Graduated from Marine Geology and Lithology Department (led by Professor N.V. Logvinenko) of Geological Faculty of Leningrad State University (1983), graduate school of VNIGRI (1994).
Worked with VNIGRI as a senior lithology researcher in the department of Western Siberia and in the group of the region oil and gas forecast. The results of the study of secondary alteration in the terrigenous rocks and guidelines for petrographic studies of reservoir rocks at great depths are reflected in the 15 published papers.
Researcher of the Marketing and External Relations Department (1996 to 2006). Engaged in organizing of international symposia and scientific conferences. Has prepared more than 50 scientific papers of VNIGRI for publishing.
PhD in Geology and Mineralogy.
Head of information and publishing group of VNIGRI since 2007, which performs edition of the scientific electronic journal "Petroleum Geology - Theoretical and Applied Studies" and maintains a database of VNIGRI's publications.
Area of scientific interest: oil and gas potential of the Timan-Pechora province, exploration and estimation of mineral resources, information technology.