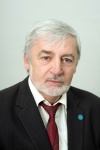 Popkov V.I.
geoskubsu@mail.ru
Graduated from Moscow State University (1974), specialization "geological survey and prospecting of mineral deposits".
PhD in geology and mineralogy, Professor, Academician of the Russian Academy of Natural Sciences.
Professor of the Geological Faculty of the Kuban State University.
Area of scientific interests: geology and oil and gas content of sedimentary basins, formation and distribution patterns of oil and gas accumulations.
Author of 465 publications, including 15 monographs, 3 textbooks.