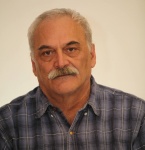 Iosifidi A.G.
iosifidi@km.ru
Graduated from Physics Department of Leningrad State University (1976), specialization «geophysics».
PhD in Physical and Mathematical Sciences.
Leading researcher of the Laboratory of magnetostratigraphy and paleomagnetic reconstructions, VNIGRI.
Area of scientific interests: magnetism, paleomagnetic studies of Paleozoic and Precambrian deposits of the Russian platform.
Author of 169 publications.