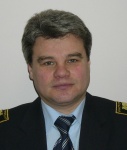 Petukhov A.V.
AV_Petukhov@mail.ru
Graduated from Ukhta Industrial Institute Ukhta State Technical University), specialization «geology and exploration of oil and gas fields»
Professor, Department «development and exploitation of oil and gas fields», St. Petersburg Mining Institute.
PhD in geology and mineralogy.
Area of scientific interest: oil recovery enhancing in the development of fractured reservoirs and high-viscosity oil.
Author of more than 130 publications.