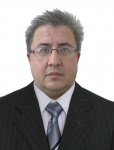 Bogdanov A.N.
bogdalex7@yandex.ru
Graduated from Tashkent State Technical University (1992), specialization "mining engineer-hydrogeologist".
PhD in geology and mineralogy.
Head of the Laboratory of Institute of Geology and Exploration of Oil and Gas Deposits (JSC "IGIRNIGM"), Tashkent, Uzbekistan.
Area of scientific interests: assessment of oil and gas prospects of Paleozoic deposits of the Republic of Uzbekistan, geological and economic efficiency of geological exploration, design of geological exploration for oil and gas, development and monitoring of data management systems for oil and gas fields and oil and gas promising areas, assessment of oil and gas exploration, development of geological exploration programs.
Author of 60 publications.