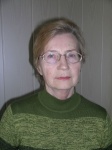 Margulis E.A.
Graduated from Tomsk Polytechnic Institute, specialization «geology and exploration of oil and gas fields» (1960).
PhD in geology and mineralogy.
Senior researcher of VNIGRI.
Key fields of scientific research: study of lithology, oil and gas basins structure of continental margins, lithogenesis, oil and gas potential forecast of northern and eastern offshore areas of Russia.
Author of more than 70 publications.