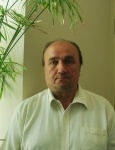 Novikov Yu.N.
Graduated from Leningrad Mining Institute, specialization «geological survey, exploration and prospecting of mineral deposits».
Head of the laboratory of oil and gas potential forecast of land and offshore areas of the Far East, VNIGRI.
PhD in geology and mineralogy.
Key fields of scientific research: geology and petroleum potential of offshore areas; target zoning of offshore areas; coastal oil and gas production centers; the largest hydrocarbon fields; the Russian Far East.
Author of more than 80 publications.