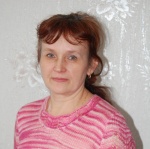 Osipova E.N.
osipovaen@tpu.ru
Graduated from Tomsk Polytechnical Institute (1986), specialization "geophysical methods of Geophysical methods of prospecting and exploration of mineral resources".
PhD in Geological and Mineralogical Sciences.
Associate Professor, Department of Geology, School of Natural Resources Engineering, National Research Tomsk Polytechnic University.
Area of scientific interests: petrogeological interpretation of geological and geophysical data.
Author of more than 50 publications.