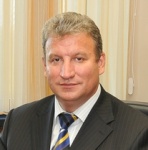 Skachek K.G.
k_skachek@igirgi.su
Graduated from Geology Department of Moscow State University, specialization «geology of oil and gas» (1990).
Head of the Department of Regional Geology and Geological Exploration, Institute of Geology and Development of Fossil Fuels (IGIRGI).
Key fields of scientific research: fluid dynamics and forecast of oil and gas potential of sedimentary basins, ontogeny of oil deposits.
Author of more than 100 publications and 2 monographs.