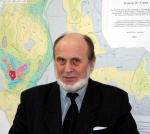 Larichev A.I.
Andrey_Larichev@vsegei.ru
Graduated from Novosibirsk State University (1972), specialization «geologist and geochemist».
PhD in geology and mineralogy.
Deputy Director for oil and gas exploration of VSEGEI.
Area of scientific interests: geological structure and petroleum potential forecast of sedimentary basins of Siberia.
Author of more than 100 publications, 5 copyright certificates on geological and geochemical methods of hydrocarbon deposits prospecting.