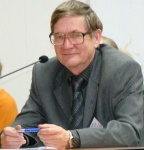 Nikonov N.I.
nikonov@tpnic.ru
Graduated from Perm State University of Red Banner of Labor (1976), specialization "geological surveying and prospecting of mineral deposits".
PhD in Geological and Mineralogical Sciences.
Chief Geologist, Deputy Director of LLC "Timan-Pechora Research Centre".
Area of scientific interests: forecast of Paleozoic oil and gas deposits in Timan-Pechora province.
Author of over 50 publications.