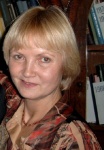 Chumakova O.V.
ins@vnigri.ru
Graduated from Geology Department of Leningrad State University, specialization 'geological surveying and prospecting of mineral resources' (1980).
Works with VNIGRI as a Senior researcher, engaged in licensing, analysis of local fund and regional work in the Timan-Pechora province.
Area of scientific interest: oil and gas potential of in the Timan-Pechora province, licensing.
Author and coauthor of 10 publications.