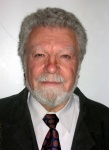 Margulis L.S.
Graduated from Tomsk Polytechnic Institute, specialization «geology and exploration of oil and gas fields» (1960).
PhD in geology and mineralogy (2002).
Head of the department of oil and gas potential forecast of waters of Eastern Siberia and the Far East.
Key fields of scientific research: lithology, paleogeography and petroleum potential of sedimentary basins of the Far East, Baltic, Barents and Kara Seas.
Author of 180 publications, including 4 monographs.