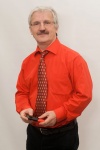 Smirnov O.A.
Graduated from the Perm Polytechnic Institute.
PhD in Geological and Mineralogical Sciences.
Chief Geologist of INGEOSERVICE LLC, Tyumen.
Area of scientific interests: development of methods for prospecting and exploration of complex oil and gas fields, building digital geological models for calculating reserves, comprehensive interpretation of geological and geophysical information for the purpose of prospecting and exploration of hydrocarbon deposits in various sedimentary basins.
Author of over 30 articles.